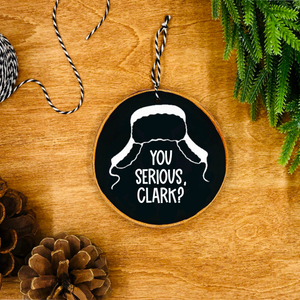 Clark: "Hey, Kids, I heard on the news that an airline pilot spotted Santa's sleigh on its way in from New York City."
Eddie : [after a pause] You serious, Clark?

Oh Eddie. #griswoldhumour
All ornaments are made on 100% Canadian birch wood rounds

Non-toxic black acrylic base

High-grade, eco-friendly cotton twine
Premium-grade white vinyl lettering and details



All pieces are designed in-house and handcrafted. Ornaments 

will vary in size between 3-4" in diameter and are approximately 3/8" thick. Natural imperfections such as knots and asymmetry are completely normal and part of the charm of each piece.